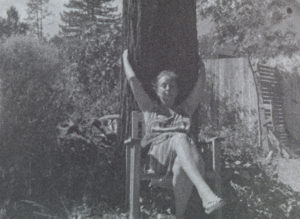 An intense experimental workshop with super 8 eco developing witch Dagie Brundert! Learn all about super 8, easy filmmaking and magic environmental-healthy potions to develop your black&white film in! Super 8 is the sexiest film material in the world!
A one week workshop, working and meeting digitally via Zoom on two successive Saturdays 7 & 14 November (11 to 17 o'clock), keeping the contact in between. Four to six participants will have the chance to learn all technical and experimental tricks from Dagie in easy short film making and producing free ecological development liquid. 
First Saturday: Introduction to Dagie and her techniques
The participants will be working individually or in groups, and each participant will be provided with a cassette of three minute of black & white super 8 film. Two cameras (Canon 310 xl) will be possible to lend.
Second Saturday: Development workshop
Developing the films in self collected / brewed soups (with coffee, wine, tree bark, berries, fruit etc.) in different ways: bucket, developer tank.
During the workshop filmmakers Johanna St Michaels and  Lena Runge will assist as photo and editing consultants.
The films will then be digitized. You can edit them, add sound if you like… and in January / February 2021 they will be exhibited together with Dagie's films in Gothenburg (At a location yet to be decided).
The workshop is free of charge, held in english and open to artists, filmmakers and other interested persons living in Västra Götalandsregion. To participate in the workshop please send us a short text (max half A4) on what you would like to investigate in the film workshop and how it relates to climate change in the west of Sweden. Send it to johanna@saintmichaelsproduction.se latest 25 September.
The project is a collaboration between the International group at Konstepidemin and Wift Västra (Women in film and television) and organized by Johanna St Michaels. The project is produced with support from Västra Götalandsregionen.
More about Dagie Brundert: www.dagiebrundert.de
… and her developing recipes:  www.yumyumsoups.wordpress.com